Job Vacancy Math Teacher Alaska Teacher Placement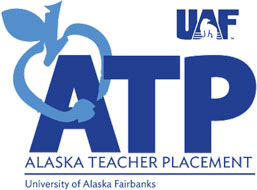 Job title: Math Teacher

Company: Alaska Teacher Placement

Job description: QUALIFICATIONS: Alaska Type A Certificate required; Multiple Endorsements preferred

Science certification preferred

Technology skills preferred

Experience with Alaska Native Students preferred
REPORTS TO: Principal

SALARY: Depends on Experience and Education

MOVING ALLOWANCE: $1,500 moving allowance to site location with submitted receipts for new hires

JOB GOAL: To help students learn subject matter and to assist in carrying out the District's defined mission.
DUTIES:
Teach students how to apply mathematical or scientific process to solve problems.
Teach students the language of math and / or the scientific process
Create instructional resources for use in the classroom.
Plan, prepare and deliver instructional activities.
Create positive educational climate for students to learn in.
Meet course and school-wide student performance goals.
Participate in ongoing training sessions.
Create lesson plans and modify accordingly throughout the year.
Maintain grade books.
Grade papers and perform other administrative duties as needed.
Read and stay abreast of current topics in education.
Utilize curricula that reflect the diverse educational and cultural backgrounds of the students served.
Develop incentives to keep participants in class.
Work with program coordinators to ensure initiatives are being met.
Tutor students on an individual basis.
Establish and communicate clear objectives for all learning activities.
Observe and evaluate student's performance.
Manage student behavior in the classroom by invoking approved disciplinary procedures.
PLEASE SUBMIT: A letter of interest, a current resume, with references and an Alaska Teacher

Placement or KSD Certified application by fax or email
APPLY TO: Dr. Madeline Aguillard, Superintendent

Kuspuk School District P.O. Box 49 Aniak, AK. 99557

907-675-4250 / email: [email protected]
CLOSING DATE: Until filled
Kuspuk School District considers applicants for all positions without regard to race, color, creed, religion, national origin or ancestry, gender, age, disability, genetic information, veteran status, or any other legally protected status under local, state, or federal law.
Powered by Aspex Solutions – AppliTrack, Applicant Tracking for Educators. Online Job Employment Applications, Web Based Employment Applications for School Districts and Educational Institutions – You can also view at www.k12jobspot.com. K12JobSpot is a site that has thousands of teaching jobs – all from AppliTrack school districts.

Expected salary:

Location: USA

Job date: Wed, 08 Jun 2022 07:22:55 GMT

Apply for the job now!